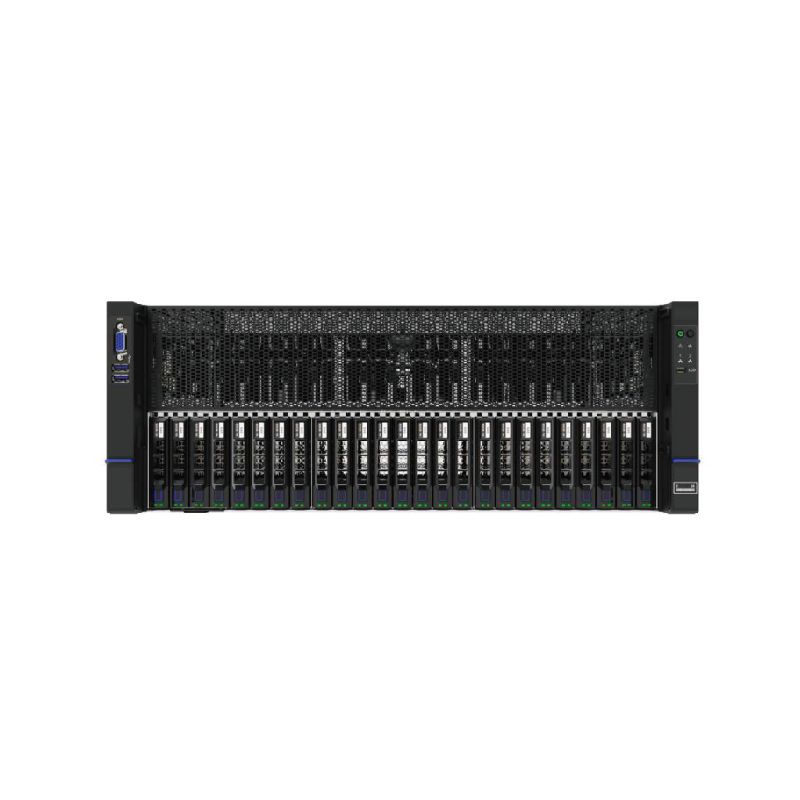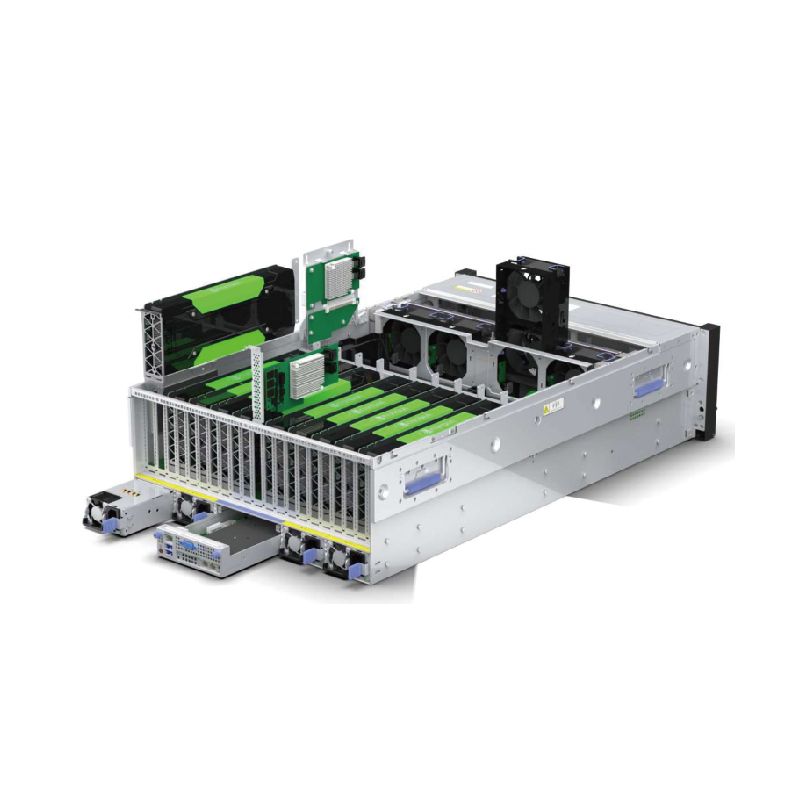 RAS-IC621T-408
4U Artificial Intelligence Server Based on Intel Xeon Cascade Lake-SP CPU
Key Features
Improved Performance: Support 2 Intel Cascade Lake-SP CPU, 2UPIJ Bus up to U10.4GT/s; Support 24 DDR4 memory up to 9.0TB. Expansion is supported.
Leading Design and Flexible Options: Support 10 double-width, full-height and full-length GPU accelerator cards; A variety of backplanes with modular design for options; Support three modes switch, including Common Mode, Cascading Mode and Balanced Mode.
Easy Management and Maintenance: The embedded server intelligent management chip supports IPMI2.0 and Redfish management mode. It realizes complete system remote monitoring, remote KVM, virtual media and other management functions. It also supports centralized data monitoring, intelligent analysis and management in the data center, can be used for the daily maintenance of the data center, which can help the data center to improve the energy efficiency, improve the management level, and save the operation and maintenance cost.
Strong Expansion Capability: Support 17 PCIe 3.0 expansion slots;Provides I/O expansion space and exclusive NIC MEZZ card expansion slot; Adopts modular design, 2 x 1GbE/4 x 1GbE/2 x 10GbE/4 x 10GbE/2 x 25GbE/2 x 40GbE network daughter card scalable.
The TG 658 server uses new design concepts and technologies, supports Intel Xeon Cascade Lake-SP CPU, has a qualitative leap in terms of processor performance, bus bandwidth and memory bandwidth, etc. It provides strong PCIes, hard drives and network expansion capability, suitable for high-performance computing (HPC) and massively parallel computing environments. It can be widely used in face recognition, video analysis, meteorological research and analysis, big data analysis and other application scenarios.
System

CPU

· 1/2pcs Intel 1st Gen. Xeon scalable CPU, 3100/4100/5100/6100/8100 series, TDP 205W;




· 1/2pcs Intel 2nd Gen. Xeon scalable CPU, 3200/4200/5200/6200/8200 series, TDP 205W.

Chipset

Intel C621

Memory

· 24 x DDR4 DIMM slot, 12 x Memory channels in total;




· Support 24 x DDR4 RDIMMs/LRDIMMs/NVDIMMs, up to 2933MT/s;




· Support 12 x Intel DCPMMs, up to 2666MT/s;




· Single capacity 8GB, 16GB, 32GB, 64GB, 128GB, 256GB, 512GB;




· Max. system memory up to 9.0TB (Need to match specific CPU model and Intel DCPMM).

Storage Controller

PCH/RSTe (NVMe) & SAS HBA/Raid card (SAS/SATA)

Storage

· Integrated 6Gb/s SATA controller (12Gb/s SAS HBA and 12Gb/s SAS RAID controller optional, support hot swap hard disk and various configuration);




· Support 25 x 2.5" SAS/SATA (4 of them support NVMe/SAS/SATA mixed insertion).

GPU Expansion

Support Balanced, Cascading (only support 8GPU) or Common Mode

GPU

Support up to 10 double-width, full-height and full-length GPUs

OS

Microsoft Windows Server, Microsoft Hyper-V Server, Red Hat Enterprise Linux, SUSE Linux Enterprise Server, CentOS, Ubuntu, Fedora, Solaris, Oracle Linux, FreeBSD, VMware ESXi, Citrix XenServer

I/O Interfaces

PCIe Expansion

Support up to 12 PCI Express 3.0 expansion slots

Network

1 x RJ45 IPMI management interface, 2 x 1GbE/4 x 1GbE/2 x 10GbE/4 x 10GbE/2 x 25GbE/2 x 40GbE network daughter card and standard PCle network cards optional

I/O Interfaces

· Front I/O: 1 x D-Sub VGA, 2 x USB 3.0, 1 x LCD Mini USB;




· Rear I/O: 1 x Standard DB9, 2 x USB 3.0, 1 x RJ45 network management interface.

Others

Power

· 2/3/4pcs power modules, support 1 + 1, 2 + 1, 2 + 2, 3 + 1 redundancy and hot swap;




· AC 220V/DC 240V/DC 336V/DC -48V input optional;




· 1300W/1600W/2000W optional.

Management

· Onboard BMC management module, support remote control such as IPMI2.0, KVM Over IP, SOL, SNMP, etc.




· The original management software can deploy multiple hosts at the same time or perform specific deployments according to the planned time. It can monitor the utilization rates of server CPU, memory and other resources, and support batch log collection, etc.




· Data center management platform realizes remote multi-function advanced management




· LCD management module optional

Security Module

TPM/TCM security module optional, support opening the chassis to detect intrusion

Mechanical & Environmental

System Fan

8 x 8038 system fan, N + 1 redundant fan, support hot swap

Dimension

Rackmount 4U,

447(W) x 175(H) x 768(D)mm (without hanging lug 748mm)

Weight

The net weight of the full configuration is about 21kg (includes the guide rail, accessories and packaging about 43kg)

Temperature

· Standard Operating Temp.: 5

℃

~35

℃

(without direct light);




· Extended Operating Temp.: 5

℃

~40

℃

;




· Transport Storage Temp.: -40

℃至

65

℃

.

Humidity

Operating Humidity: 10%~80% (non-condensing), Storage Humidity: 5%~95% (non-condensing)